CLASS DETAILS
General Class Description Schedule, Location, and Fees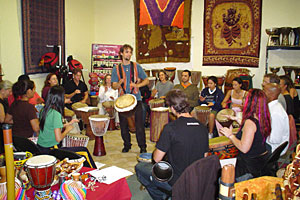 Universal Drumming is a universal style of hand drumming. This means that the class focuses on those aspects of drumming that are universal to most any drum or drumming tradition that utilizes hand drumming. African, Brazilian, Latin, and Middle-Eastern drumming are examples of the many traditions the class covers. However, students are not bound to any specific tradition and learn how to create their own rhythms as well. Although the class is primarily taught on djembe drums (provided), the goal of the class is to teach people to play any hand drum with confidence and flare in any situation (drum circle, on stage, alone, etc.). Most of all, the goal is to get people to truly ENJOY the art of drumming! Feel free to ask email Alex or call 323-356-6435 for more information.
Class Description: This class is geared towards those who have little or no prior drumming experience, but also accommodates intermediate players. We cover basics such as: holding and striking a drum properly, basic coordination drills, easy rhythms, and playing as a group. Drums are available to use if you do not own one. Everyone who takes the 4 or 5-week beginner course is able to play the drum when they finish! Those with prior experience will be given more challenging rhythms and playing techniques. Every session features new rhythms and excercises! Click here to enroll!
Schedule: Classes are held every Wednesday night, with a new session beginning on the first Wednesday of every month and ending on the last Wednesday of the month.

Next Session: Dec 7-21, 2016

Class Time: 7:30pm-8:45pm (every Wed. night)
Location: Remo Recreational Music Center 7308 Coldwater Canyon in North Hollywood (just North of Sherman Way) - parking in rear.

Extra drums provided courtesy of REMO (click for website)

Note: Please enroll online or call Alex at 323-356-6435 prior to attending.
Registration Fee
: A 4-week class session is $60,
5-week sessions are $75. Fee is paid in full on the first day on the session (students are responsible for their own attendance throughout the course). Partial sessions must be arranged ahead of time and drop-in attendence is allowed at $18/class, space permitting. (If the class is full, priority is given to those who purchased the session.) Please contact Alex via
email
or phone at 323-356-6435 to RSVP. I look forward to hearing from you!